* Deadline for submissions: June 30th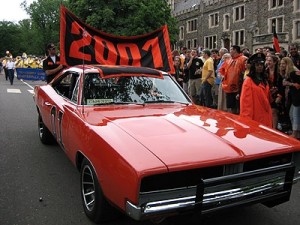 Are you old enough to remember:
Waking up freshman year in your Butler double (errr…single) and banging your head against the waffle ceilings?
Traipsing buck-naked around Holder Courtyard in the snow without fear of getting tagged on Facebook?
Calling your friends from a Blue Phone (who had cellphones back then??) to figure out where they were headed on the Street?
Partying at places like DEC, Olden Street, and Campus Club?
Shrieking with excitement when DJ Bob played "Hit Me Baby One More Time" for the fourth time that night?
Waiting all spring semester for New Found Glory, Zoso, or Pat McGee Band to perform at lawn parties?
Well if so, then 1) yes, you are officially old and 2) it's time to start getting excited about our 10th Reunion! To kick off the year of preparations, we are conducting a poll of all '01ers to determine the best theme for this momentous event. Â We have a lot to live up to as, for those of you who may have forgotten, our 5th reunion won the coveted Clancy Award in 2006 for best reunion class that year!
Themes have been rich and varied throughout the years. Â The Office of the Alumni Association maintains a list of past themes which have included: Aged to Perfection; 65 and Sure Alive; Still Vertical; Going Back to the Best Four Years of All; Going Back … Looking Forward, Clear the Track!; Princeton's Vintage Class; Close Encounters of the 30th Kind; Tiger Gras, Planet 87: Paws in Space, The Good, The Bad, and The Orange; 2007: License to Chill; 5 Sheets to The Wind!, What happens in Princeton stays in Princeton.
To start the creative juices flowing, here are some guidelines to consider as you brainstorm:
Prior themes have been related to:

a planned service project (1977's "Gimme Shelter," where the class sponsored a Habitat for Humanity House)
a play on class/year/major reunion numbers (1969's Ying/Yang symbol)
anything relating to something of past significance to the class. Â For example, our 5th reunion built a theme around the bank robbery on Nassau Street that occurred our freshman year.

Keep in mind how the theme would contribute to other areas such as food, costumes, entertainment, kids activities, and community service.
We look forward to seeing your best ideas!  Submissions are due June 30th, 2010.
Submit your theme idea now:
THEME SUBMISSIONS CLOSED