Our 20th Reunion will take place
Thursday – Sunday,
May 20–23, 2021
To the Great Class of 2001,
Our 20th Reunion is coming up fast!  Please mark your calendars for May 20-23, 2021. Although we won't all be together in-person this year, there are still many ways that we can come together and show our spirit. How fitting for our ALL for '01, '01 for ALL unity and Three Musketeers theme!
We're working to put together a full slate of amazing virtual programming over Reunions weekend.  We will share more details about these exciting plans as they are finalized, so stay tuned!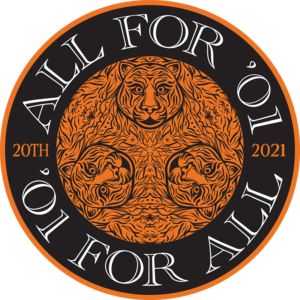 of Community Service Completed!
All event times are listed in Eastern Daylight Time (EDT)
Search / Filter by:
of Community Service Completed!
20th Reunion 2,001 Hours of Service Challenge
In honor of our 20th Reunion, we have issued a challenge to our class to complete 2,001 hours of community service—in a socially-distanced way—in our own communities.
We're leaving it up to you to choose how best to serve, and every little bit helps. If you want project ideas or suggestions for service activities, check out the list below!
We even have an option for those of you with more money than time to give: choose any community-focused organization, and you can log one minute for every dollar you donate.
Please log your hours and donations by 11:59 PM PDT Friday, May 21. We will be announcing incentives for the classmates who participate the most, as we progress towards our goal!
Email us if you have questions or suggestions!
Letter-Writing & Spirit-Building
Food Pantry
Meals on Wheels
Direct or In-kind Donation
Children in Need
School Volunteerism
Tutor or assist in a classroom — your kids' or someone else's!
Mentoring
Neighborhood Beautification
Crowdsourced Research
Volunteering Online
Giving Blood
In addition to the great children's events occurring live reunions weekend, we've put together a bunch of other resources to help keep those kiddos entertained while you participate in Virtual Reunions.
Downloadable PDFs coming soon...
Make Orange Slime

Make Oragami Tigers

Bake Orange Cupcakes

Make an orange tie-dye t-shirt

Coloring Pages
We are offering SWAG packages to help you celebrate Reunions from afar, and to show your spirit all year long!
The Adult SWAG Package includes a themed T-shirt, refillable water bottle, commemorative tankard, collectible Reunions button and 20th reunion lapel pin, in addition to some other fun goodies to help you make the most of Virtual Reunions!
The Kid SWAG Package includes a themed T-shirt, refillable water bottle, magnetic bookmark, and custom puzzle so the whole family can join in the festivities!
Start by ordering one Adult SWAG Package for yourself, and add as many additional packages as you need to cover your partner, children, other family members, invited reunions guests and beloved friends!  Every purchase also supports the virtual programming we are providing throughout Reunions weekend.
Please order by Monday April 5 to guarantee your order arrives in time for Reunions 2021.
Click below to place your order:
Register for a Zoom account here.
Lyrics to "Old Nassau" available here.
Check out past Reunions:
Download Princeton: