To the Great Class of 2001,

It's been an eventful decade and a half since we walked through FitzRandolph Gate – almost 15 years of building lives, careers and families in a world none of us could have predicted. Sometimes you just want to walk back through that gate and into the "Princeton Snow Globe."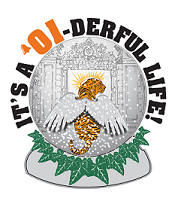 So we are indeed Goin' Back May 26th to 29th, 2016 for a weekend of IT'S A '01DERFUL LIFE. Inspired by the holiday favorite, IT'S A WONDERFUL LIFE, starring Old Nassau's own Jimmy Stewart '32, plan on four days of winter-wonderland-in-the-summer merriment: A festival of twinkly lights, halls decked with boughs of ivy, a snow play area for the young and young at heart, cool costumes, and an ice luge or two.
The logo reflects the movie's famous line "Every time a bell rings, an angel gets its wings," but our especially '01 theme of camaraderie and gratitude truly rests in the movie's closing note: "No man is a failure who has friends." How better to celebrate knowing each other for half our lives than at our 15th Reunion?
Stay tuned in the upcoming weeks for registration details, and let's be there with bells on,
Gordon Avery & Kiska Higgs
Reunions Co-Chairs